About OfficeClip
OfficeClip is a web-based application that provides an integrated solution for better management of your contacts, customers, projects, and employees. OfficeClip facilitates information tracking and sharing in a manner that is relevant to your organization. One of the striking features of OfficeClip is that it provides an interface for interacting with all the different types of people that are related to your business, both internal and external.
OfficeClip web suite can be used online (hosted by OfficeClip.com) or can be installed on your computer. The online version does not require any installation and can be used directly by creating an account online. The installed version runs on Internet Information Services (IIS) and can be put on your company machine or your private network. OfficeClip also can be used directly on the Amazon EC2 instance.
The OfficeClip Components
The OfficeClip application consists of the following components, which centralize and organize the office operations:
Each OfficeClip component works as a self-contained, independent unit, offering unique features for the administrator and the user. These components can be created and managed by the administrator/creator, who can also set permissions for other users.
Desktop
The Desktop component will help to manage, prioritize and organize all your work. It will help to
Create new Tasks for you and keep track of your work.

Schedule your appointments through Calendar.

Send and compose Email's

Add new Notes.

Add new OfficeClip and Customer Portal Users.

Organize all your business Documents in one place.

Desktop Components
OfficeClip Desktop consists of the following components:
Home Page is the dashboard representation of all the OfficeClip applications. It displays the widgets and charts that give an overall view of the applications.

Announcements convey important messages to the employees within your organization. Customized announcements can be created with images, notification to the employees by email and also supports an expiration date to close the announcement.

Forums is a discussion platform where all employees can put their views and ideas on various topics.

The Calendar can be used to create group events, personal events, and appointments. Invitations for these events can be sent to the organization users or customer portal users through OfficeClip. Share Calendar options can be used to share the calendar with customer portal users. Meetings, events, tasks or time off taken by employees can be accessed through the calendar.

Tasks are a list of activities to be completed within a given period. Time spent on the task can be tracked. Once the task is assigned, the assignee is automatically notified.

Documents in OfficeClip helps you to organize all your business-related files. This files can be shared, copied or moved between folders. Restrict access to documents to employees with necessary permissions.

Users application shows a list of registered or customer portal users of your organization. These users may have privileges attached to do certain activities in OfficeClip.

Email application allows you to send and receive your emails from your POP accounts. You can create your signature, mailing list, block senders, create rules for email.

Notes help to manage all your organization notes in one place that can be accessed from different devices. Notes are organized by notebooks. Each note can be designated as public(for organization users) or a private note.

Photo Album is used to save photos within albums. These photos can be used from various applications like Announcements and Campaigns. Photo Album supports simple photo editing like zoom, flip, text insertion, etc.
CRM
CRM (Customer Relationship Manager) is a product that is used to manage the complete lifecycle of customer information. This includes tracking customer information from its inception i.e., prospects to contact to customer and opportunities. Many CRM software tracks opportunities, support desk, and competitor information. In all, these system provides a 360-degree view of the customer information.
OfficeClip CRM helps to organize all the details and interactions of your customer in one place with the aim of building a long-lasting relationship between the customer and the organization. This CRM software will enhance your relationship with customers, streamline work, will help in better communication, and improve profitability.

CRM Components
OfficeClip CRM consists of the following components:
Contacts application stores contacts, leads and prospect information. Activities like events, tasks, emails,documents and encounter notes for each contact can be stored within the application. It can also store the relationship between various entities (for example, direct reporting structure). Contacts can be filtered and used for sending campaigns and newsletters.

Accounts contain records of your business partners, vendors, suppliers, etc. It contains detailed information of an account in one place like the company address, number of employees, revenue, their activities, contacts, opportunities, etc.

Opportunities tracks potentials for accounts and prospects. It uses various stages to qualify an account.

Competitors application keeps track of strength and weaknesses of competitors. It helps in doing the SWOT (Strengths, Weaknesses, Opportunities, and Threats) analysis for competitors in various opportunities.

Campaigns: allows you to design newsletters using templates. By using campaigns, you can send bulk email campaigns to help promote your products and services. It can help you to track the expected revenue, budgeted cost and actual cost for a campaign.

Invoices are an essential component of any CRM system. This application allows you to create the invoices correctly based on the billing information in the system. Each invoice contains the PO number, currency, terms of payment, discount given, quantity and price. Payments for invoices in OfficeClip can be accepted via credit cards, debit cards, Paypal.
CRM Security
There are many levels of security in the OfficeClip CRM:
Secured Socket Layer (SSL) is used to encrypt information between the browser and the server.

The login and password are required to enter the system.

Roles are used to make sure only allowed users can execute privilege features (example: deleting a Contact).

Access Levels (Read, Write, Append, Delete) are used to control access permission of objects. For example, you may not want to show data from high-income individuals to some users of your organization.

Administrators are only allowed to set up and configure the fields and rules within the CRM system.
CRM Rules
Rules can be added to the CRM so that certain actions are triggered based on various conditions. There are three main types of rules implemented in the OfficeClip CRM:
On-Screen Rules: Allows changing the on-screen field values of New and Edit screens. For example, you may have certain employees to work on Florida accounts. So when they enter a Contact, it would default their State to Florida

Workflow Rules: This allows automated creation of tasks, appointments or sending campaign emails when a new Contact is entered in OfficeClip

Access Rules: Allows control of access permission to each CRM objects. For example, you can program the Accounts such that when an Account is entered for the city of Georgia, only users whose Roles is "Southeast US" will be able to access those accounts.
HRM
The HRM module helps to manage the Timesheet, Expenses, and Projects of the user. It means tracking time spent on a project and expenses of the users for a project. The Timesheet feature is integrated with Projects so that users can track time spent on a project. Expenses keep track of the project and employee expenses which helps to keep track of the budget of an organization.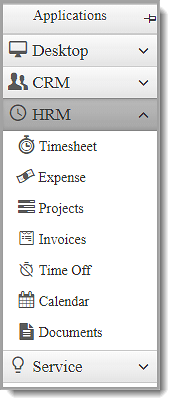 HRM Components
OfficeClip HRM consists of the following components:
Timesheet records the time spent by an employee on various projects. It tracks the number of hours spent and details of work done. Time tracked in other applications(contacts, tasks, issue tracker) can be imported into the timesheet. Workflow routes the timesheet to the supervisor for acceptance.

Expenses allows employees to record the costs incurred for project related activities. Expenses can be submitted, approved or rejected by the approver set by the administrator. This application also generates reports which give the administrator an idea of the total expenses of each user or total cost incurred on a project.

Projects help to record the status of work done for various activities (the start and end date, budgeted hours and amount, etc.). The time spent on a project can be recorded in a Timesheet and cost incurred for a project can be recorded in Expenses.

Invoices can be sent to customers via email through OfficeClip. Invoices can be created with different templates. The Invoices application is shared with the OfficeClip CRM module

Time Off tracks leave types such as vacation, sick, maternity, etc. You can setup Accruals and Carry Forwards to run at configurable intervals and accumulate leave based on employee seniority, job period and job category.

The Calendar keeps track of various events and Time-Offs. It is shared with the CRM application.

Documents allow users to keep all the company documents in one repository that can be shared within the company or with the public. It is shared in all components.
Service
The Service module consists of the Issue Tracker which helps you to track the bugs or customer support requests with your or customers projects. Users can easily create tickets or issues via Web forms or Issue Tracker. These issues are managed and tracked through Issue Tracker, assigned to respective experts and also ensures timely resolutions.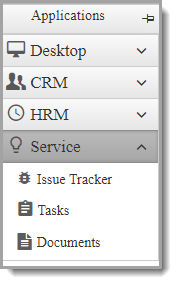 Service Components
OfficeClip Service module consists of the following components:
Issue Tracker helps you to track company issues and software bugs by various criteria. OfficeClip supports a concept of a binder that can hold the same type of issues. For example, you can create a binder for tracking internal sales call and another binder for support tickets.

Tasks: help to set up a to-do list with start date and due date. The administrators can control the access to the tasks. It is shared within various OfficeClip components.

Documents manage the repository of sharable files and are shared between all OfficeClip components.