General concepts used in different Applications
Tags
Tags are free-form labels that can be linked with any objects (e.g., Contacts, Accounts, Opportunities, Campaigns, etc.). Tags are an important feature of many Web 2.0 services. Many websites and blogs use tags for easy article labeling and efficient searching.
OfficeClip implements a hierarchical tagging for its objects. Tag Groups are used to group similar tags. These groups provide structure to the otherwise free-form tags that can quickly get out of control. We recommend grouping tags wherever appropriate; tags without groups are also supported and are equally powerful for searching and creating filters. You can create filters for contacts, accounts, opportunities using tags. You can also search tags with Tag Name and Tag Group Name.
Hierarchical tags allow users to create parent and child tags. This type of tags provide better categorization and improved ability to find information faster. For example, Sue's Insurance Company sells various services, such as medical insurance, auto insurance, and homeowners insurance. The company also wants to categorize the contacts to see the states where they have lived previously. In this case, the tag hierarchy will look like this: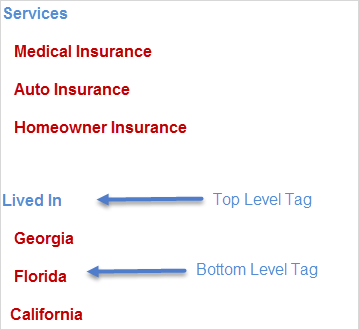 Now Sue can tag each contact based on two criteria: Services and Lived In.
Administrators can limit who can create new tags and associate tags with various objects such as Contacts, Accounts, etc. Unlike websites, where users can link blogs with any arbitrary tags, this feature provides organizations the ability to enforce a policy on tagging various objects they own.
Tags are currently available for Contacts, Accounts, Opportunities, and Campaigns. To access tags, users can go to the bottom of the summary details page. Tags can be managed (if authorized) by clicking on the Tags link on the button bar.
Creating Tags
To create new Tags:
Click on any application (Contact, Account, Opportunity) and then click on Tags > Add New Tag.

After entering the details click Save.

You will see the tags entered. You can associate this tag with contacts, accounts, opportunities, etc.

To associate a tag with a contact, account, opportunity, etc:

Double click the item for which a tag is to be associated or click on the icon.

On the summary page, under the tags section click Add.

Select the tag and click Update.

You will see the tag added to that particular Contact, Account, Opportunity, etc.
To learn more details about how to associate a tag with a contact, account or opportunity click here.
History
Helps to keep track of what your team is working on at many levels.
New History Module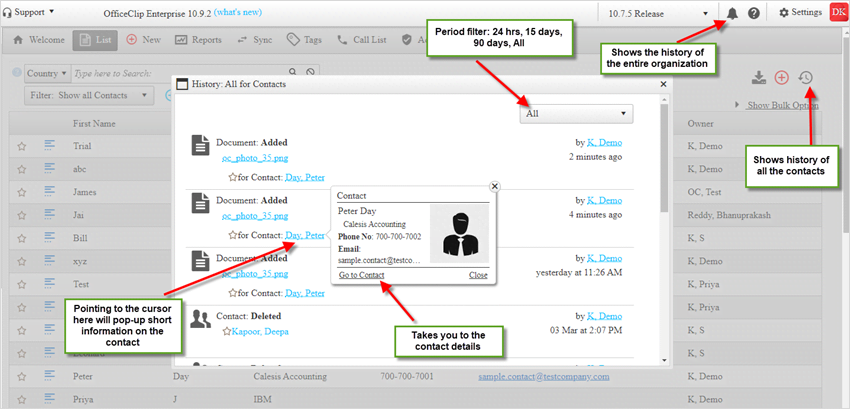 The history icon is at the top right of every page. Depending on where you are, you can see the different levels of details on the history. For example, if you are on the Contact Details screen, it will show the history of all changes made to that contact only. On the contact list screen, you will see the history of changes to all the contacts to which you have access. At the organization level, you will see the history of all the changes made within the system that includes contacts, customers, timesheet, etc.
Notifications
Notifications are automated messages which the user receives through email or can be seen on the screen. These notifications can remind employees of specific actions to be performed for Timesheet, Contact Manager, Issue Tracker, etc.
Steps for setting up Notifications
Go to Settings > My Account > Notification Preferences

Select the modules for which you want to see notifications, checkmark Email if you want to receive notifications via email and enter cc email address if required.
The user can receive instant notifications on the screen.

The bell icon on the menu bar will show the notifications received.
An email notification can be received hourly, daily, or once a week.
Uses of Notifications in modules
Contacts: If any new contact is added, modified, or deleted in the database, the users in the organization will be notified.

Documents: If any documents are edited, deleted or downloaded, the users will know the actions performed on those documents.

Notes: Any notes added for any user may be useful for future references.

Tasks and events: If any tasks or events are added for the prospects, everybody will be in the loop.

Timesheet:
If the timesheet for the day is not saved, the user will receive a notification for filling up the timesheet.

The supervisor or manager will receive a notification if the timesheet is not submitted by the user weekly or monthly.

The user can also see the notifications for approval or rejection of timesheets.
Time Off: With the time off request notification, the supervisor gets an idea of employee availability, and this will help in proper allocation of work.

Invoices: A new invoice creation will help to keep track of payments.

Issue tracker: If the user or a customer adds any new issue, the concerned person, after receiving a notification, will immediately take steps to resolve the issue.
Notifications for modules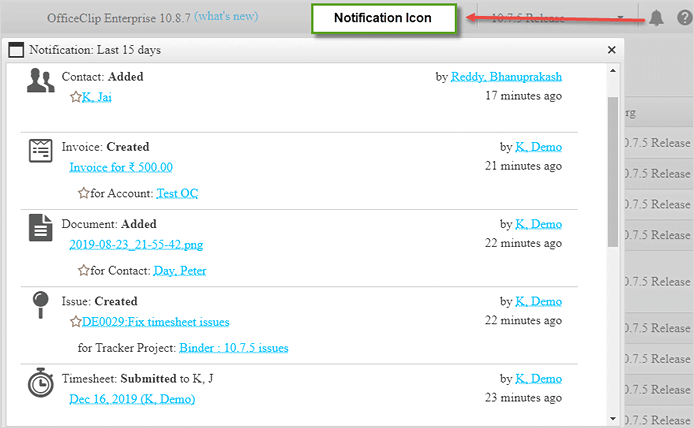 These Reminder messages can help to keep submissions and approvals on schedule. It will also alert you about the tasks to be performed and updates in your system.
New Skins
OfficeClip has added many new skins to the applications. You can change the look and feel of your OfficeClip applications.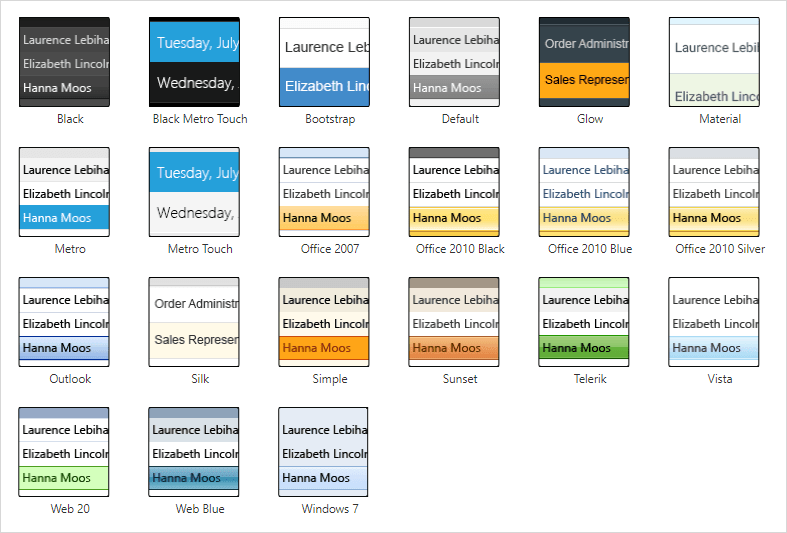 To change skins:
Click on Settings > Entire Site > Information > Options.

Click on Change Skin and the choose the desired skin.
Help Files
OfficeClip help files will help you understand how to use our OfficeClip applications easily. It has step by step representation of its use along with the images to make it more understandable.

Help files now have images to explain the concept better. Also, you can export and print help files as pdf and chm document.