Using Home Page
The Home Page module will give you an overview of the all modules and their current status in the form of a dashboard.
Accessing Home Page
Log in to OfficeClip.

Click Desktop > Home Page on the toolbar.
Manage Portlets
The Portlets on the Home Page can be minimized, maximize, removed, or edited, allowing you to customize the screen to fit your needs.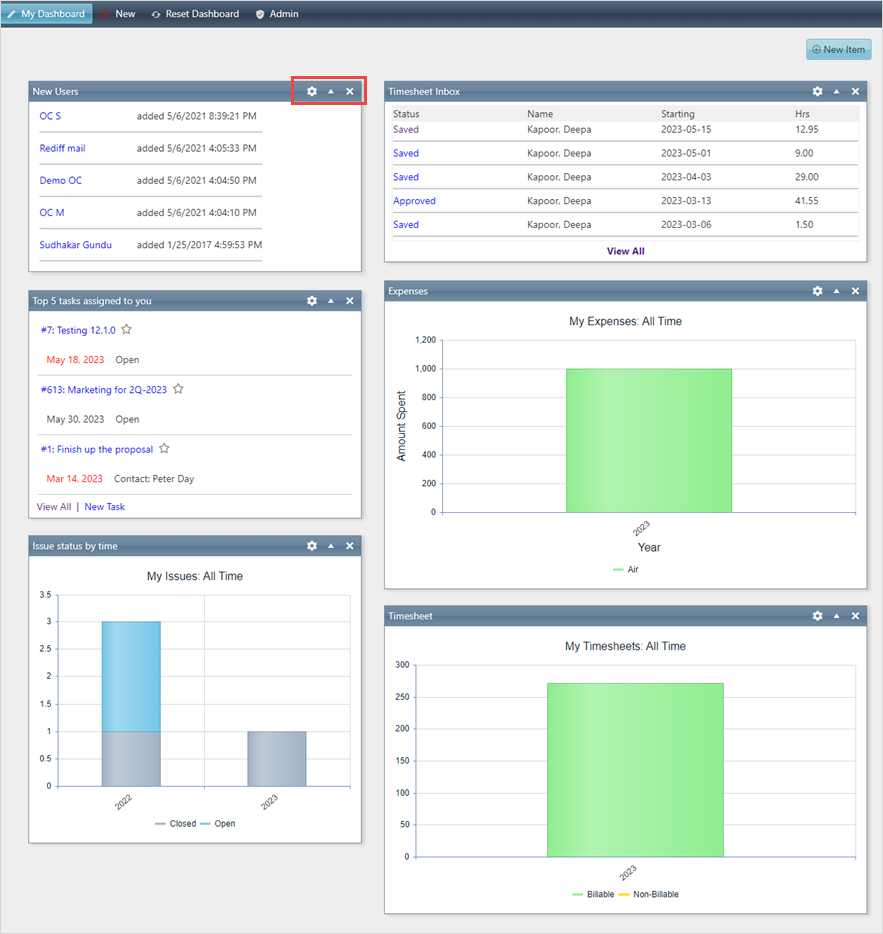 Drag and Drop the portlets by holding the mouse on the Portlet title bar and moving it to any location of choice.
To minimize/maximize a Portlet, click the icon.
To close a Portlet, click the icon.
To edit a portlet, click the icon.
Creating new Portlets
You can add new portlets on your dashboard as per your requirement.
To add new items on the dashboard:
Click

Homepage

>

New

or click on the

New item

button on the top right corner of the screen.

You will see a list of all the portlets in different modules. Select any one module, whose portlet overview you wish to see on the dashboard and click

Add

.

On this screen, add an appropriate title to the portlet, help text, select the zone Left or right where you want to view, and finally click

Save

.

After saving, you will be able to view the new portlet in your dashboard. You can drag and drop it as per your requirement.
Editing Portlets
To edit a portlet, click on the icon on the portlet.

Make the necessary changes to the title, help text, zone, and click

Save
Reset Dashboard
The portlets on the Home Page can be reset to return to their default position.
Click

Home Page

on the toolbar.
Click

Reset Dashboard

on the

Home Page

button bar.
Click the

Reset

button if you want to reset your portlet settings to default.
Admin
With the Admin section, only the Administrator can manage the dashboard, and reset the dashboard settings to default. The changes made by the Administrator will affect all the users.
To make changes through Admin section:
Click

Desktop

>

Homepage

>

Admin

The Administrator needs to click on the

Reset

button to reset the dashboard.