Verifying Download
You can verify the downloaded files in two ways:
Click on the Verify Checksum on the OfficeClip download screen. It will provide a SHA1 checksum that you can compare with your downloaded file.
Unblocking Executable
OfficeClip executable and signed with the digital certificate. However, the OfficeClip zip file that you download may flag as unsafe by the recent version of the Windows operating system. This causes windows to show smartscreen warning during installation.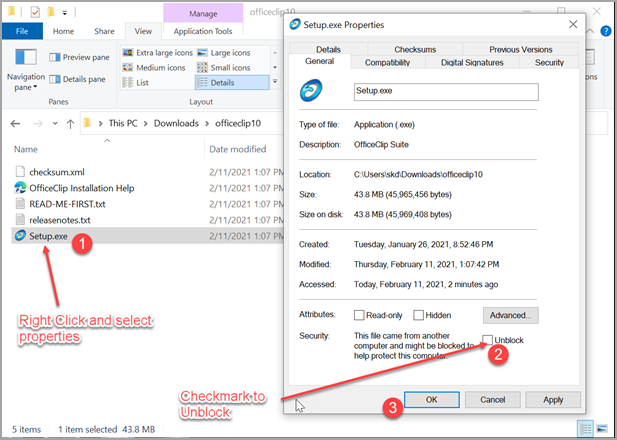 Right click on the downloaded zip file and click on Properties, then checkmark the box called Unblock at the bottom and click OK
Checksum Verification
Before installing OfficeClip you are advised to verify the authenticity of the files. This is because sometimes files can be corrupted during download, at other times you may have downloaded a malicious file with the same name from a phishing site. OfficeClip signs the following files with digital certificate:
CAUTION:
For your safety you should validate the digital certificate before installing OfficeClip on your computer.
Unzip the downloaded file in a folder. Right click on the

Setup.exe

file and select

Properties

.

Click on the

Digital Signature

Tab and then click on the

Details

button. If you do not see the Digital Signature Tab then the file may not be genuine. Please see below to download OfficeClip from the correct location.
Under the

General Tab

make sure that the

Digital Signature

is shown valid and also verify the Name of the Signer.