Task List
The Task list shows you a list of all the tasks in OfficeClip. From this screen, you can view the tasks, filter the tasks, edit tasks, mark the task as complete.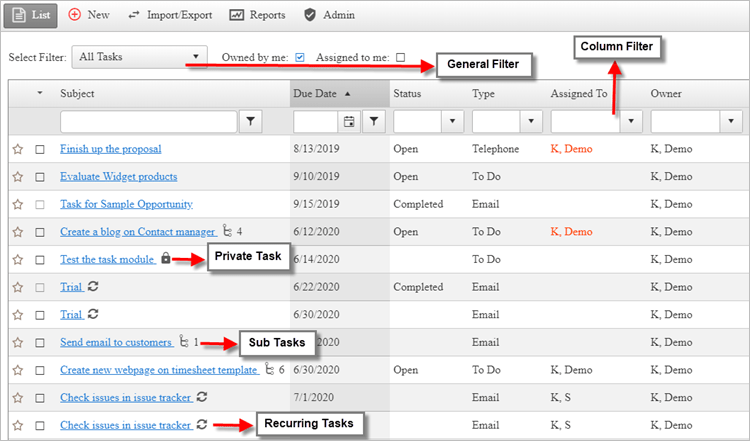 Filtering Tasks
There are two ways to filter tasks:
General Filter.
Column Filter.
General Filter
A general filter appears as a drop-down above the list.
It allows you to view the tasks on the main task list screen with specified criteria.

You can choose the criteria from the drop-down, such as Incomplete Tasks, High Priority tasks, Private tasks etc.
You can also choose to show tasks that are

Owned by you

or

Assigned to you

.
Column Filter
A Column filter appears above each column of the Tasks list.
Select a filter from the drop-down list on the main Task List screen.

You can filter the tasks by various criteria like Due date, Status, Type, Owner.
You can search for task subjects using different criteria.

Check the example given below for using filters for a

Subject

.
Here, we will search for tasks starting with the word Check. So we enter

Check

in the subject box and choose the filter

StartsWith

.

After choosing the filter, it will display all the tasks with the starting word as Check.

The screen will automatically refresh with the required filtered tasks.
History
The history button on the top right of the main screen helps to keep track of what changes your team is making on the tasks
To see modifications done to any of the tasks by users, click on the

History

button. It will show all the edits, new tasks added or deleted tasks..

To learn more details about the history button, click here.
Edit Task
You can edit or make other changes to the task only if you have permission to do so.
To edit tasks:
Go to

Tasks

>

Task list screen

.
Click on the icon.

It will open the task to edit.
Make the necessary changes to the task, and it will automatically save all the changes.
The notification for changes saved will show up on the screen.
Delete Task
Users can delete a Task only if they have permission to do so.
There are two ways to delete a task:
Tasks List screen:
Go to the

Task list screen

.

Click on the icon in the Actions column and select

OK

.
Task Details screen:
Click on the task you want to delete.

In task details screen, on the right side of the screen, click the

Delete

button and select

OK

.
Complete Task
To mark a task as complete:
Go to the

Task list screen

Checkmark the tasks you want to mark as complete.

Click the

Complete

button.
The status will change to complete.