Viewing Project Details
To view Project Details click on the details icon

at the left side of each project or double-click on a row.
Modifying a Project
You can edit projects to keep information about the project, such as the budget and the percent complete, up-to-date and relevant.
Click on the

Project List

link at the top to display all the projects. Select the project you want to modify from the list.
Inside the project, click on the

Modify

button, make necessary changes and click

Save

.

To clone a project, click on the

Clone

button. Give the project a new name and click

Save

.
To delete a project completely, click the

Remove

button.
Press the icon to return to the main

Project List

.
Filtering Projects
Filtering projects allow you to select the tasks that show up on the main list screen according to a certain criteria. You can choose these criteria such as Project name, Account name, Start date, End date, etc.

To filter the projects or accounts select a filter option from the drop-down list on the main list screen. The screen will automatically refresh with filtered projects or accounts listed.
Activities
Activities in Projects consists of Call log, Tasks, and Events information.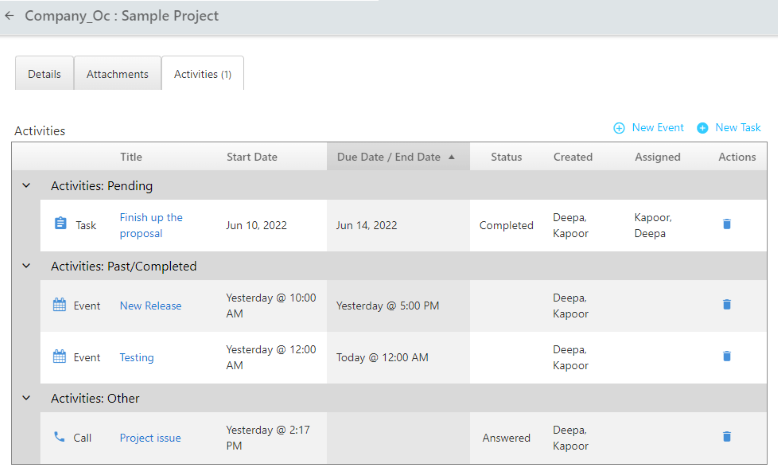 You can create new tasks and new events through activities and get an overview of call log information. To learn more about call log, click here.
Create Tasks
Users can also create tasks related to projects in the Project application itself. This will make it easier to view all project details, the documents and tasks related to project in one place.
Click on the Tasks button inside the created project.

Click on New Task.

Add the task details and click Save.

To learn more details on how to create a task, click here.

Users can also add a new note for each task by clicking on New Note.
Create Events
Events help us to create and manage appointments.
To create a New Event:
In Projects, click on the project for which you want to add new events.
Click

Activities

>

New Event

.

Enter the details like Event type, name, and the start and end time of the event. You can also add attendees (attendees can be from your organization or the external users) as well as set reminders, select the time zone, etc.
After finishing, click

Save

.
The process of creating events in Projects is similar to creating events in Contacts. For more details, on how to create events, click here.