Using Competitors
This section describes how to use the Competitor application efficiently.
Creating New Competitor
This screen allows you to enter all the details associated with a new Competitor such as the Name, Products, Services (offered by the Competitor), Revenue, Strengths, Weaknesses, Opportunities, and Threats (SWOT), etc.
To create a new Competitor:
Click

CRM

>

Competitors

. Click on the

New

button on the menu bar or click on the icon on the right side of the screen..

Enter the details like

Name

,

Products

,

Services

,

Revenue

,

Address Information

, etc.

You can also enter the information like their

Strength

,

Weakness

,

Opportunities

, and

Threats

, which will help you understand your competitor in a better way.
Click

Save

when you have finished entering information in the fields.
Editing Competitors
From the main Competitor List, you can Modify and Delete the Personal Information, Address Information, Other Information, Custom Fields and Ownership of the competitors.
Click on the competitor you want to modify. On the summary screen you will see the Modify and Delete button.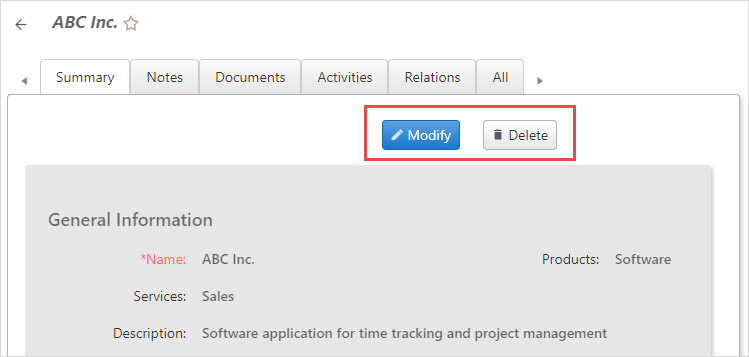 The features of Editing in Competitors are similar to the features in Contact Manager. To see the detailed description, click here.
Searching and Filtering Competitors
By using Search and Filter options in OfficeClip Competitor application, you can easily find the competitors for whom you are looking. This feature allows you to search for competitors by typing in a keyword and selecting a field, such as Description. You could search for a certain word to be in the field Description and all items that match this criterion would show up in the list. This feature is helpful for viewing items that may be related to a certain project, period, user, etc. without having to search through the entire list.
The search and filter features in Competitors are similar to the ones in Contacts. To learn more details about search and filter, click here.