Timesheet Application
In OfficeClip, employees can manually record hours or can track time using the Check-in Check-out system.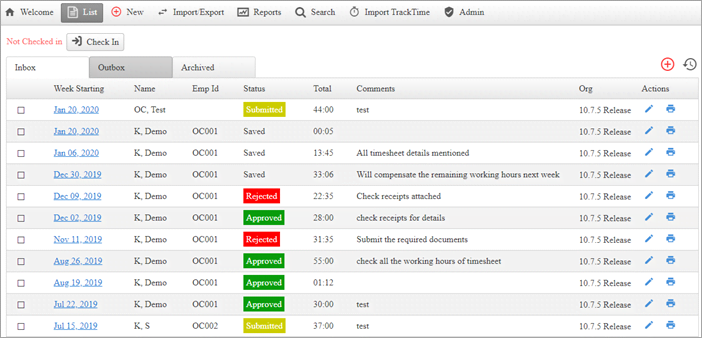 Adding hours manually
To enter hours manually, employees can click on the

New

button inside the Timesheet module.
Employees can also click on the icon on the right side of the Inbox screen.
Employees can manually enter the number of hours worked, and project and tasks worked on.
Enter time with In/Out Timesheet
Employees can click on the

Check-in

button which will start recording the time.
At the end of the day, employees can click the

Check-out

button and enter break hours and details.
This saves the check-in and check-out time along with the break hours in the timesheet.
DCAA
Businesses working under Government contracts in the US need to be DCAA compliant.
OfficeClip timesheets follow the guidelines set by the DCAA.
Learn more about What is DCAA?
Proxy
The Proxy feature allows an employee to create, submit, or approve timesheet on behalf of another employee.
This feature can be enabled if any employee is not able to access the timesheets or is out of office. In that case, the Administrator can authorize an employee to do certain tasks related to the timesheet on his/her behalf.
Reports
Export Timesheet
Rules
Mistakes in the timesheet can be costly for the organization. The rules module in OfficeClip helps to automatically flag many edit rules that are set by the organization. For example, if the organization has a policy that employees need to work at least 40 hours every week, then it is flagged in the timesheet if the employee does not meet this condition.
Rules in timesheet are set up by the administrator and are defined as a set of actions that trigger when the set conditions are met.
Setting up rules ensures that the employees follow specific guidelines set up by the organization while filling up the timesheet.
It is flagged as a warning or error to the employee and the approver.
Learn more about How to set up rules for timesheet.
Workflow
The Administrator sets up the workflow for approval of timesheets.
Workflow routing can be Manual or Automated with a routing level of up to three people.
With the workflow set, when the timesheet is submitted, it automatically gets routed to the appropriate person.
Check the process of Setting up Workflow.